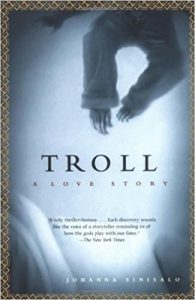 In the alternate Finland of Troll: A Love Story, Angel returns to his apartment after a night of drink and thwarted love to find a group of teens tormenting a juvenile troll. Trolls, an accepted denizen of Finland's forest don't usually stray into the city. They're a sort of wild animals, falling somewhere between a cat and a primate on the evolutionary tree. But Angel, falls in love with the fragile beast at first glance, and brings him home, believing he's rescuing a baby animal. Or is something very different going on?
Troll asks what happens when urban loneliness encounters nature: tooth, claw, and pheromones.
This short novel also explores loneliness, isolation, and transactional sexual maneuvering. The inventive text includes multiple points of view, snippets of poetry and folklore, and excerpts from "scientific articles" about Felipithecus trollius, making for an interesting read. Judging by the beautiful prose, the translation is excellent. Here's Angel's description of an unavailable lover:
His eyes are computer icons, expressionless diagrams, with infinite wonders behind them, but only for the elect, those able to log on.
The juxtaposition of myth, science, and modern society, and the tale's ending twist makes Troll contemporary fantasy at its finest.