Artists, I still need you.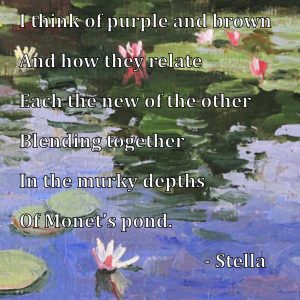 I consider color too much, a side effect of several hobbies.
Color is what I seek out in visual art and in the garden.
Not the object represented, or the media, or the politics.
Color.
Color is art's life blood.
Pros: Intricately imagined world. Timely themes. Much wisdom.
Possible Cons: Suspension of disbelief mandatory. Many informational passages, characters and indefinite nouns.
Tell/Show Ratio – high
Graphic Index Sex – low
Graphic Index Violence – medium
World Building – excellent
Internal Veracity – medium
Science fiction novels often magnify current societal concerns. The opening quote from Samuel Delany's Dhalgren, informs the reader that Blackfish City will involve real estate problems of epic proportions. Continue reading Blackfish City by Sam J. Miller, a Review