Darby Harn's, A Country of Eternal Light, A Review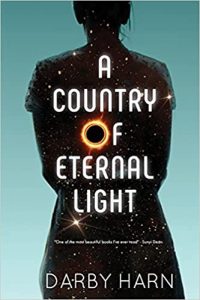 Genre: Science fiction, apocalypse
Positives: Stunning prose. Emotional depth.
Negatives: A happy ending isn't really an option, given the scenario. Difficult main character.
Mairead, traumatized by the loss of her child, her mother's rapidly progressing dementia, and her father's relatively recent death is withdrawn and suicidal. And now, a black hole wanders closer to Earth swallowing everything in its path.
At in the novel, I was reminded of the movie Melancholia, in which a rough planet is on course to smash into Earth. And the main character, an acutely depressed basket case, weathers the planetary collision with greater composure than her 'together' relatives. Continue reading Black Hole Apocalypse