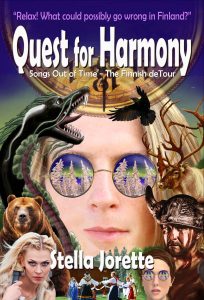 The band won't make any money in remote Finland. But Pam insists on including the tiny country in their Scandinavian tour. "What could go wrong," she says. Well. Plenty, when one is cursed, sent off on a quest, and especially when one's mum turns up and starts flirting with the tour manager. Can Martin fulfil his quest, survive the supernatural denizens of Finland, and withstand his mother?
Quest for Harmony is a short read which bridges the gap between Harmony Lost and the band's next adventure (coming soon).
Expect humour, folklore gone amuck, and bad behaviour on the part of Martin Davis, rock-star. If you enjoy the story, please add a review in GoodReads.