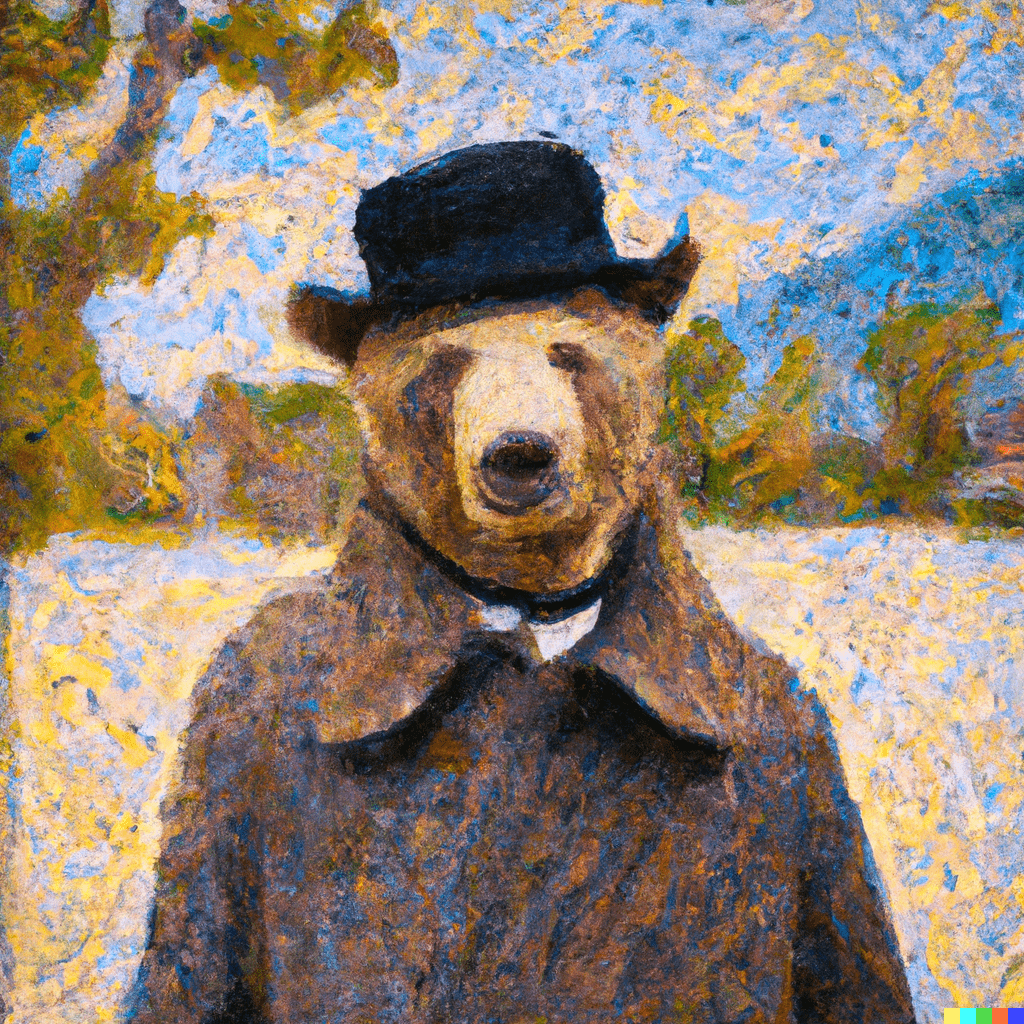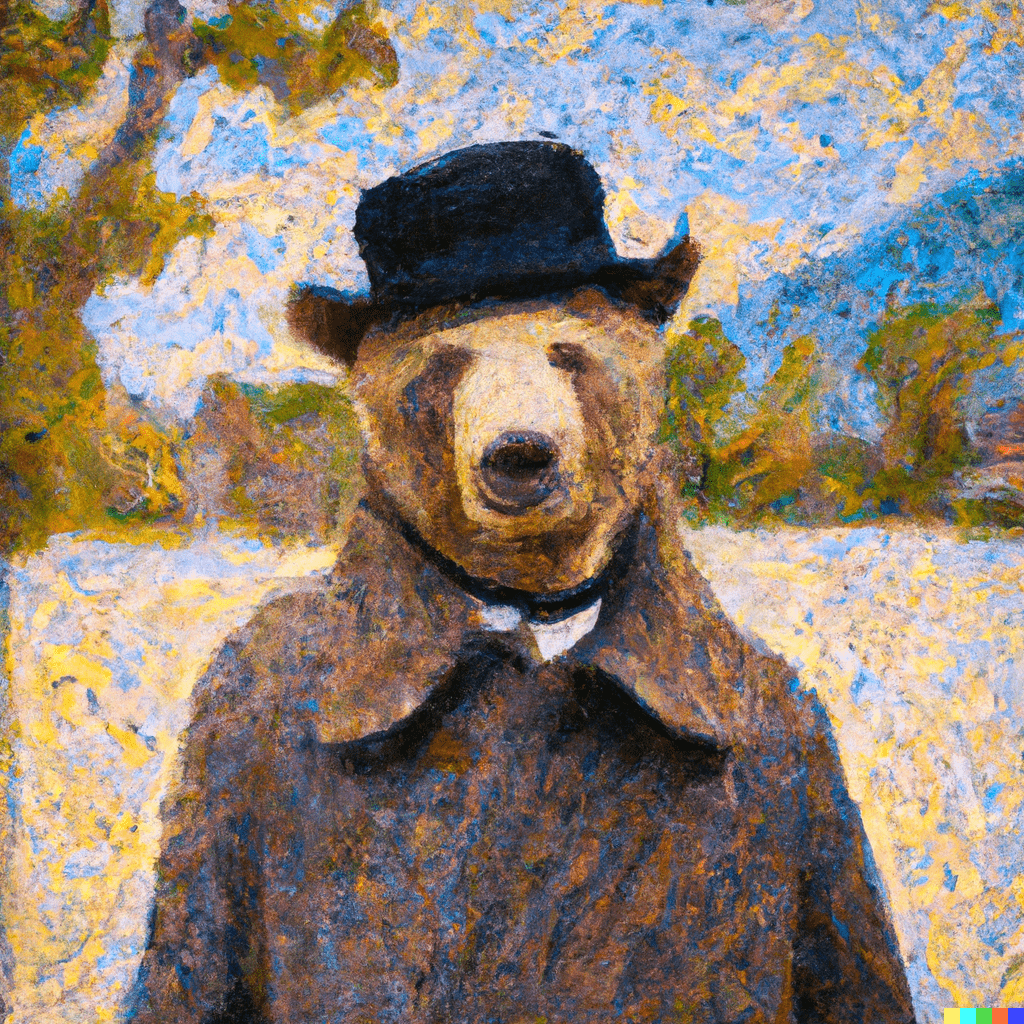 Martin leant against an arch, lit up, and inhaled, a move he'd learned from Fred Astaire, though nobody could match Fred's elegance. Amazing the video game designers preferred that vile and outrageously caffeinated, cherry-flavoured "energy drink" over a smoke. Young people these days, no style whatsoever. Doctor Balthus's gentle nagging about cigarettes "maintaining a cycle of addiction" played in the background, as he sketched out the ogre boss's theme music.
He'd settled on a bombastic military style: Holst meets gangsta rap, when a bear strolled out of the Franciscan garden and stopped to ponder a tourist map. The sizeable beast wore a handsome, yet redundant, brown coat and a classic homburg hat, befitting the weather. The bear he'd met in Finland favoured much snappier attire. Still, fully clothed, bipedal bears were rare. Could this be his old acquaintance?
A gust of wind rattled leaves across the courtyard and rifled the pages of the bear's map. He glanced up, then straight into Martin's eyes. A flash of recognition, and he waved, erasing all doubt. Here was the bear, his bear! Martin joined him, and the bear shook his hand, his paw shake still firm but not unbearable. They exchanged pleasantries. Up close, a grizzled muzzle attested to the passage of years. To be fair, Martin looked older too—occasionally, when exhausted or stressed. Desiring a comfortable conversation, they took a table at a nearby café, a cosy place with cheery red walls hung with the work of local artists. A vase holding a holly sprig sat on the table, the berries matching the walls.
The bear ordered coffee and a brioche. Martin ordered the same, just to be polite. Rather late in the day for coffee, and the game designer's lunch had been generous. He asked after the bear's wife, only to learn she'd passed away. But they'd enjoyed many years together. After escaping Finland, they'd trekked back into Russia, keeping a low profile because the Politburo was eliminating those who'd campaigned for ursine rights. They followed the artic forest into China, where his wife had family. There, they'd opened a modest but high-quality restaurant. Then bile poachers had targeted their village.
"Bile poachers?"
"Dah, local humans think bear bile make wonderful medicine . Maybe true, but I keep bile for myself."
The bile-poaching story continued, but Martin couldn't ignore a growing sense of the surreal. After all, most would consider conversing with a bear extraordinary. And this bear was a Ruskie, though his nationality wasn't supposed to matter now that the wall had fallen. Doctor Balthus encouraged him to notice singular circumstances, because taking the peculiar in stride had repeatedly led him down rabbit holes. And some of those rabbit holes had nearly killed him, case in point, his last exchange with this bear. And yet, none of the café's other patrons, whether chatting, sipping coffee, or bent over a newspaper, appeared taken aback by his woodland companion.
He cleared his throat and prepared oblique inquiries. "Do you have many human acquaintances?"
"Of course. I am cosmopolitan bear."
"Oddly, you're the only bear I've ever spoken to."
"Well. You funny man, ping in and out." The bear clapped his paws and added, "Pouf."
"Ping? Pouf?"
"Yes. One moment here, next moment gone. Hard to make friends when you don't stay in place."
"I could say the same of you. Do you recall our Finnish adventure? One minute we're discussing a clever prison break, the next, you're naked—except for the fur—growling maniacally and lunging for my jugular vein. I was terrified and couldn't understand your dramatic mood shift."
The bear chuckled as he stirred yet another spoonful of sugar into his coffee; Russian bears must enjoy their sweets. "I remember different. You return to cage and open door like promise. But escape plan is crazy. I wear tutu, ride unicycle, and pretend to be circus bear. I say to you, 'Medvedslav Bazarevich is no play-actor, but thank you.' Then, I run."
"That wasn't me! I never take a unicycle on tour." Those spinning spokes pinch fingers, not to mention the grease…and the balancing.
The bear, who's given name was far too long, sipped his coffee, then settled his cup into its saucer. "Maybe I meet different you while you meet different me."
"As in parallel universes? I don't recall a portal, transporter, or rip in space-time. One would notice such things, wouldn't one?"
"Funny guy. How 'bout you check universe now? Does city look like Prague?"
The bear gestured with his substantial snout to the café's window. Outside cars queued. Nothing unusual about red lights or heavy traffic. A woman walked past with a parrot perched on her arm. Nothing unusual about pets…but…this parrot wore spectacles and clutched a miniature book in one claw!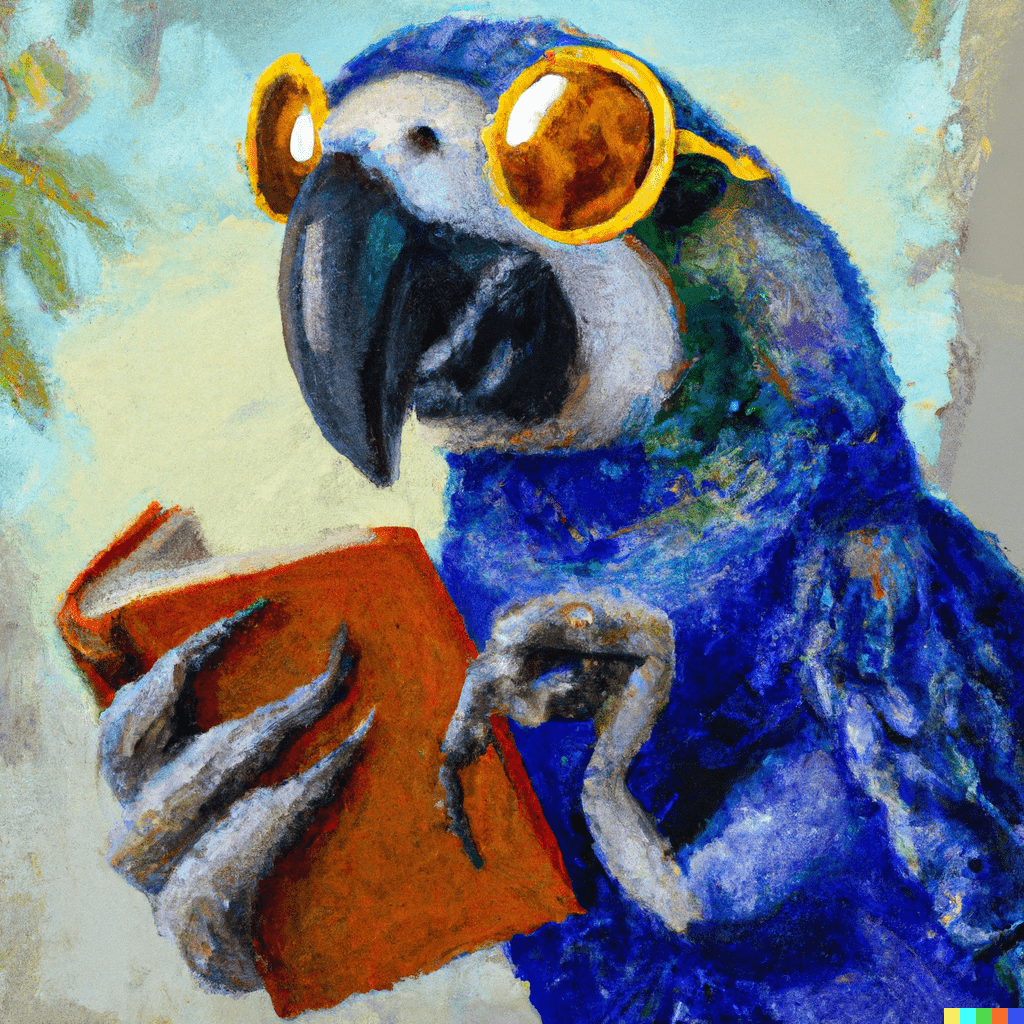 The bird wanted explaining. Couldn't blame drugs anymore; his chemical romance had ended years ago. A hallucination, perhaps? He still required psychotherapy, all these years on, but seemed he was a tough case. Regardless, Doctor Balthus never used the word psychotic when describing his symptoms. Maybe alternate universe was the best excuse for that ridiculous parrot.
"Well, now that you mention…" He turned toward the bear.
But the bear had vanished. In his place, a moustachioed gent with outrageous eyebrows perused an outdoorsy magazine. A round, brown fur hat, complete with ear flaps, hung over a corner of his chairback.
Oh, god. No!
"That hat…it's not bear fur; is it?"